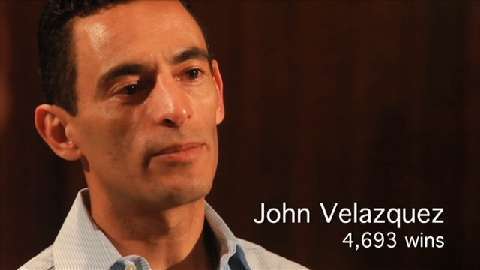 I highly recommend that everyone take time to both watch the video and read the article. The jockeys are surprisingly honest.  The video  round table includes Garrett Gomez who grew up and started his career in New Mexico. To watch the video please go to http://www.courier-journal.com/article/20111029/SPORTS08/310290116/Breeders-Cup-2011-Jockeys-rein-their-emotions
When an enraged Calvin Borel charged at Javier Castellano near the Churchill Downs winner's circle after narrowly avoiding a spill in last year's Breeders' Cup, it was a rare public glimpse at the raw emotion that's just below the surface in horse racing.
The size of the resulting punishment — Borel was fined $5,000 and Castellano got a six-day suspension for careless riding and a $2,500 fine — was more of a factor of where they fought, rather than the fact that they fought.
While disagreements over riding tactics are not uncommon, fistfights are relatively rare — but they almost always occur behind the closed doors of the jockeys' room.
To jockeys, that is just part of a dangerous sport. When a horse's misstep or a jockey's mistake or recklessness can send riders and their mounts crashing to the ground, jockeys say they not only have to look out for one another, but also police one another.
"There's sort of an honor system that there are certain lines you don't cross, that somebody's life comes before dollar figures," said retired Hall of Fame jockey Gary Stevens, a three-time Kentucky Derby winner. " … The bond that we all have is that we rely on each other to look out for one another and not put yourself in any kind of precarious position where something might happen. Because if one guy goes down, it can cause a chain reaction."
Jockeys' unwritten rules of etiquette require that if you do something wrong on the track, you apologize — and mean it. "Don't tell me 'Mary had a little lamb' and give me a story," retired jockey Richard Migliore said. "Own up to what you did."
"That's the No. 1 thing," said New York-based jockey John Velazquez, who is chairman of the Jockeys' Guild and winner of the 2011 Kentucky Derby on Animal Kingdom. An apology "stops the argument right there, because you're acknowledging you did something wrong."
Policing themselves
While track stewards, who watch the races high above the track, mete out official penalties, jockeys say the riders themselves often know best when a colleague is crossing the boundary — especially when there is a pattern of carelessness or dangerous tactics. The riders themselves become the enforcers.
Jockeys say it's usually left to the older and more experienced riders to intervene.
"Sometimes the senior guys in the room are the police," Stevens said. "You might not have even ridden (in the) race and you see something happen and when the guy comes back in, you say, 'Hey, what the heck was that? You need to pull your head out of your butt.' "
Many jockeys say it's best after an incident to go back into the jockeys' room and look at the replay before assigning blame. That might show something you missed, plus it gives a rider several minutes to cool off and think about what happened — and what comes next.
Sometimes an apology sets things straight.
When it doesn't and a fight breaks out in the jockey quarters, Stevens said the rule of thumb is to let it go 30 seconds before breaking it up.
Migliore explains by referring to "that old adage where two old dogs go to fight and if you separate them real quick, they're always going to want to get at each other again. Where if you let them chew on each other a little bit, they figure out a way to get along. That's kind of how it is in the jocks' room."
What was rare about last year's Breeders' Cup Marathon race is that the fight occurred in public on one of racing's biggest days and was caught on video, to be played over and over on ESPN and the news.
What made this encounter even more stunning was that it involved Borel and Castellano, two of the quietest and most easygoing jockeys around.
Wrong location
It all began on the final turn of the Breeders Cup Marathon, in heavy traffic. Castellano, riding Prince Will I Am, swung sharply to the right and cut in front of Martin Garcia and his mount, Romp, who had another horse to his outside. At precisely that moment, Borel, aboard A. U. Miner, was moving up to the outside of Garcia and Romp.
Romp clipped heels and almost fell, careening into A. U. Miner. Garcia, whose foot came out of a stirrup, managed to stay on Romp only by hanging on to the left sleeve of Borel's silks.
The video shows Borel standing for several strides, slowing his horse, while Garcia regained his balance. Despite losing his momentum, A. U. Miner recovered to finish fourth and then moved up to third when runner-up Prince Will I Am was disqualified for initiating the incident.
An angry Borel sought out Castellano after the race, pointing a finger in his face. The videos, which have an obstructed view, appear to show Castellano making some sort of contact. Borel says now that he thought Castellano was laughing at him. The fight was on.
A swarm of people pulled the riders apart, but not before cameras caught the rage on the face of Borel, who until then was known to the public as the kindly, home-spun guy who cried every time he won the Kentucky Derby.
Borel acknowledges now that he should have held his emotion in check until he reached to the jockeys' room. (Even had he and Castellano still fought, they likely would have gotten only a $250 fine, if anyone reported them to the stewards.)
"That's where it should have taken place: in the jocks' room," Borel said. "But it happened. Sometimes you preach, you preach. Then sometimes you've got to pull someone up. Say, 'Hey, that's enough.'… I told (Castellano, in the jocks' room) what I had to say. I told him what he did wrong, and he agreed. … That's the way it should have gone. I should never have gotten that upset. I never did before."
Borel had been in three spills in the days leading up to the Breeders' Cup.
"Twice it was from guys who were careless, not paying attention," he said. "That could have had something to do with it, maybe. Because believe me, I don't get in arguments. I like everybody, and everybody likes me."
Castellano acknowledges he was careless and calls his suspension "the right decision." He says one factor was that the horse in front of him was slowing and he wanted to move around him.
"We are human beings, and I didn't realize how close he was," he said of Garcia. " … I'm glad nothing happened with him, that everybody came out safe. But it was ugly. I just very slightly came out, just a little bit. But we don't have a mirror. It was in the blind spot. … I'm glad we turned the page, and I'm good with him."
'Gentlemen's club'
In 1942, legendary jockey Eddie Arcaro served a year-long suspension after knocking another rider off his horse and nearly over the rail. Asked by the stewards what he was trying to do, Arcaro was widely reported to have screamed, "I was trying to kill the son of a bitch!"
Jockeys interviewed for this story said that real or implied intent is virtually nonexistent today. Steve Bass, now an agent for current star Julien Leparoux, calls today's riding colony "a gentlemen's club" compared with the mid-1980s, when he started riding.
Migliore concurred, saying that, "Guys take care of each other a lot more now."
Certainly, there are tensions: Jockeys aren't on salary; they earn by winning and compete not only on the track but off the track too, for a shot at the best horses. That part of the game is "at times cutthroat," Migliore said. "You're going to do what you can to get on another guy's horse if you see an opening."
The jockeys' room also can make for close quarters. It's where riders shower, change silks, study the races, watch television, eat and generally hang out. A jockey might arrive there shortly after morning training ends, or earlier, and might not leave until well after 6 p.m. when there's afternoon racing.
"I'm with them more than my wife," Borel said of other jockeys.
"It is the most unique arena in sports," said Migliore, now a New York and HRTV racing analyst, "that the competitors go back to the same locker room in a testosterone-filled walled area."
Many seasoned riders said that some of the younger jockeys don't want to listen to advice — especially when they're having success doing things their way.
"Sometimes they're young and healthy and never been hurt," veteran jockey Jon Court said. "They don't realize how vulnerable the body is."
But jockeys stressed that the one thing that should never happen is for the emotions of an earlier incident to erupt in a subsequent race.
"One thing we don't do is get back at somebody out there, on the track," said Robby Albarado, a leader in the Churchill jockeys' room. "We don't keep score. If we even hear a jock say something like that, we pull them up and say, 'Listen, leave it here or outside but not on the racetrack. Because you're going to really get someone else or yourself hurt.' "
Echoed Migliore: "You can't use people's horses as pawns, and you can't use people's lives as pawns."
Helping on the track
What largely goes unnoticed, jockeys say, is how many times they make instantaneous adjustments on the track to help out a rival in a potentially dangerous situation, even if it might cost the assisting rider a better finish.
"Never mind winning the race, because that becomes secondary," Stevens said.
"The other side doesn't make the highlights when it happens, which is daily, more so than the negative things," said 2010 Eclipse Award-winning jockey Ramon Dominguez. " …Safety always comes first, but you're trying to produce for your owners and win the race, and at the same time, look after each other. It's a very difficult thing to do."
Stevens cites, for example, a situation where a jockey finds himself boxed in, in heavy traffic, on a strong contender. The choice is to hold your position and perhaps lose or take a chance to maneuver into the clear.
"Like Gorella in the Breeders' Cup," Stevens said, referring to his fast-flying third-place finisher in the 2005 Mile. "I had nowhere to go. I could have wheeled out but why? Because there was a good chance I'd have dropped somebody, and then I'd have had my number taken down (be disqualified) and everything else. It's hard to do, but you've got to just bite your cheek and hope that something opens up for you."
It's a matter of inches or fractions of a second between engaging in the time-honored art known as "race-riding" and being a safety hazard. And horses don't always respond as the jockey expects.
"Horses aren't power-steering," said New York-based Rajiv Maragh, who was involved in a flap in the Belmont Stakes when his mount came over on Mucho Macho Man, which then caused Animal Kingdom to stumble badly and nearly unseat Velazquez. "Sometimes you think it's going the way you want, and a little shift in anything and then there's a mishap. There's a fine line. Sometimes it seems like a jockey did something intentional, but it's really not."
The day after the Belmont, Velazquez told reporters he thought Maragh, whom he considers a friend, tried to impede Mucho Macho Man because he'd lost the mount on that horse, a charge Maragh denied.
Dominguez discovered two weeks ago how awful it is to force another rider off his mount in a race.
His mount, a first-time starter, came over in the stretch of a 2-year-old maiden race at Keeneland, causing Gabriel Saez's horse to fall. Dominguez, who went on to finish second, said he didn't know he'd done it until the winning jockey told him as they were pulling up.
Although Saez wound up sore but otherwise unscathed and called his fall "part of the game," Dominguez said he hopes to never be in that position again.
Usually, he said, "when you bother somebody, you think, 'OK, nobody went down.' You think right away about yourself and 'Gosh, hope I don't get taken down and I hope I don't get 'days.' … In this case, that was the last thing that crossed my mind. Especially coming back when I saw they already had him on the stretcher. I was just praying that he was moving. I got off my horse and ran back there, to make sure.
"… You think, 'Did I come over too much? Could I have done something different?' It's just a bad feeling."
Written by
Original story: http://www.courier-journal.com/article/20111029/SPORTS08/310290116/Breeders-Cup-2011-Jockeys-rein-their-emotions
Via www.courier-journal.com
No related posts.